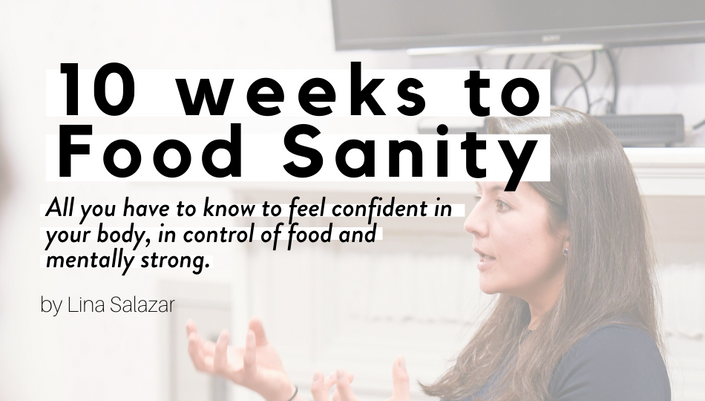 10 Weeks to Food Sanity
All you have to know to feel confident in your body, in control of food, and mentally strong.
Starts September 1
The problem is not your body or lack of willpower.
The problem is that for too long women have bought into the idea that to feel healthy, happy and confident we have to count almonds, weigh ourselves daily or workout every day.
And this keeps you stuck in a cycle of disliking your body; of chronically feeling "not enough".
Dieting doesn't make you
HEALTHIER. POWERFUL. CONFIDENT. CONSISTENT. HAPPIER.
If diets worked, one would be enough.
What you want is within reach.
I've designed a 10-week program for women who want to take control of food and:
Feel confident in their bodies

(all the time...not only when they lose weight)

Sweat often AND enjoy it

(not do it because they have to)
Move to feel strong and energized (not to burn calories)

Be present for life

(rather than thinking how something is always missing)

Cope with ugly emotions

(not escape from them with a jar of Nutella)

Have a stress-free relationship with food

(and be consistent once and for all)

Choose to say "no" to food without feeling deprived

(or think about the extra slice of pizza for days)

Enjoy every second of their lives

(instead of letting food consume their minds)

Learn tools to stay sane amidst daily chaos

(instead of reacting)
Through 10 group sessions and an in-person community of like-minded women, you will gain insights, clarity and experience transformation around how you eat and live.
At the end, you will be able to dedicate mental energy to what truly matters: relationships, your family, or your career goals.

It's time to get your life back. It's time to live a healthy life on your own terms.
No more...

Crafting excuses to stay home alone to avoid the temptation of the breadbasket at the restaurant.

Eating on auto-pilot and feeling awful afterwards.

Jumping from one diet to another.

Self-criticism that destroys you.

Letting stress take over your emotions and life.

Avoiding trips to the beach and parties because your body "isn't ready".

Feeling unhealthy, overwhelmed, and over-stressed.

Feeling not enough in your career and your personal life.
"I tortured myself on a mental hamster wheel of dieting. I had not idea this different option of wellness and authenticity existed" - K.N., 33
---
"I'm able to slow down, and eat better to nourish myself. I don't see food as the enemy" - A.A., 35
---
---
"I feel empowered to eat what my body wants based on nourishment rather than the number of calories" - S.P., 33
THE CONTENTS
Each module prepares you for the following one. All the modules are carefully linked to each other.
This process is based on extensive research; it's designed to generate insights, clarity, and help you upgrade your lifestyle:
Week 1. The 5 reasons you can't be consistent with food (in-person; March 10)
Week 2. What you need to un-learn and re-learn (virtual; March 17)
Week 3. What triggers you? (virtual; March 24)
Week 4. Tricks for emotional strength (virtual; March 31)
Week 5. The two-step process to make healthier choices (in-person; April 7)
Week 6. Tools to re-learn how to eat I (virtual; April 14)
Week 7. Tools to re-learn how to eat II (virtual; April 21)
Week 8. The shortcut to body love (virtual; April 28)
Week 9. Using food to tame your urge to eat (virtual; May 5)
Week 10. Closing session (in-person; May 12)
To learn more about the program, scroll to the bottom of the page and read the FAQ.
Frequently Asked Questions

When is the program offered?
The program starts on March 10, 2020 and lasts 10 weeks. All sessions take place on Tuesdays at 6:00 p.m. EST and last 75 minutes. The in-person sessions will take place at The Yard in Eastern Market. The early bird pricing ends on 02/15/20.
What is the format of the program?
The program has 10 modules. Each week, you will get access to one module. Each module comes with audios and support materials (podcasts, videos, handouts, additional resources), which you'll find on your personal online portal. You must complete the audios and practices before each of the weekly group sessions to get the most out of the program. The group sessions are 75-minute long. They are designed to help you reflect in a group setting on each phase of the growth process and leverage the power of the community to accelerate your learning curve (This is the most important aspect of the program). Three of these group sessions will be in-person at The Yard: Eastern Market. The other 7 will be virtual Zoom video-conferences. During the program, you will receive two personal 45-minute sessions with Lina. This provides you the opportunity to meet your specific needs and receive hands-on guidance from Lina. While issues around food don't start nor end with food, the Program provides you with a list of foods that will make the journey towards Food Sanity easier. Food is a tool, not the protagonist.
How big is the group?
The Food Sanity Program is intentionally small. There won't be more than 10 women. This will allow Lina to provide individualized attention to each participant. It also ensures better interaction among group members during the sessions.
My schedule is crazy. How much time shall I expect to invest every week?

The program requires around 2 hours per week. The audios and content on your profile will take around 1 hour to complete, plus the group sessions. The exercises consist of journaling prompts and experimenting in real life. If you're curious and want to further your progress, the program provides additional resources to complement the program's contents.
Will I lose weight?

This is not a weight-loss program. The goal of the program is to train you in the skills required to have a healthy, sane relationship with food and your body. Having said that, weight-loss may occur as a result of learning this skills, but it's not the main purpose. We leave weight in the back burner and instead focus on modifiable behaviors that are conducive to health (mental, emotional and physical), regardless of the number on the scale.




What's your refund policy?


Once you register, you gain immediate access to the content, so refunds or free trials aren't available. This course only works if you're ready for change. This isn't a commitment; it's an investment in yourself. If you're ready to invest in your mental, physical, and emotional health once and for all, you're in the right place.




Will I be able to connect with other women?

Yes! This is a group program. I have witnessed (and experienced!) the power of the group setting. It accelerates progress and leverages each woman's experience. The first, middle and last sessions will be in-person gatherings in Washington D.C., where you can connect with women in-person.




What if I have an eating disorder?

This course is NOT a substitute for clinical treatment for eating disorders or any mental or physical illnesses. If you have an eating disorder, I encourage you to reach out to a licensed mental health professional or physician. You can find more information on the National Eating Disorder Association website. If you have questions or want to discuss whether this program is right for you, reach out to Lina at

[email protected]




Will I get personalized support?

This course includes two individual coaching sessions with Lina. This will be an opportunity to check-in with your progress and address specific questions that you may not want to ask in group sessions. The goal of this course is to provide guidance on the key foundations of healing your relationship with food. It is not a substitute for private coaching. After the course if you feel you need additional support, you can always discuss this option with Lina at

[email protected]





What if I don't live in Washington D.C. or the United States?

All sessions (except 1, 5 and 10) will be group video conferences (we will use Zoom), so you can be anywhere in the world. Remember all sessions will take place at 6:00pm EST. Check the time difference with your location here. Sessions 1, 5 and 10 will be in-person gatherings and we can make arrangements to connect you via Zoom.
Is this course available in Español?
Este curso estará disponible en español en marzo de 2020.
Is the content available after the program ends?
You will lose access to the content one month after the program ends. You can download all materials. I encourage you to download the content.

Where can I learn more about Lina?
You should know more about Lina, her background and how fighting food and her body brought her to where she is today. Visit www.livewellway.com and read the About Lina section. Sign up for her newsletter and follow her on Instagram,
@live.well.way

Photo credits:
Ana Isabel Photography
Dan Gold
Dylan Lu
Behold.Her