IT DOESN'T MATTER WHAT YOU CALL IT—EMOTIONAL EATING, BINGE-EATING, LACK OF WILLPOWER AROUND FOOD, YO-YO DIETING OR OVEREATING.
Every woman has the power to be healthy, happy and confident.
In too many women, this inner power is unrealized.
They remain trapped in feeling guilt and shame around what they eat, they dislike their bodies with every look in the mirror, and they are caught in an exhausting cycle of dieting followed by periods of feeling out of control around food.
The Food Sanity Program contains the leading principles and practical tools to break this vicious cycle.
It helps women understand the real drivers behind their eating behaviors, cultivates their inner strength and provides a road map for living a life many trapped in a fight with food never thought was possible.
The Food Sanity Program is based on an integrative approach to health. It contains leading insights and tools from eastern and western thought on how to actualize emotional, mental, and physical well-being.
If you want a 'quick fix,' or a diet plan, the Food Sanity program is not for you. The program is for women who are willing to take action outside their comfort zone and are ready to invest time and resources in deep emotional and mental exploration.
If you are willing to transform your relationship with food from within, the Food Sanity program is the key to unlocking your full potential.
It will teach you how to get out of the cycle of unwanted eating through a process of self-awareness, self-responsibility, emotional intelligence, and freedom of choice.
THE UNWANTED EATING CYCLE
This is the cycle many women are stuck in.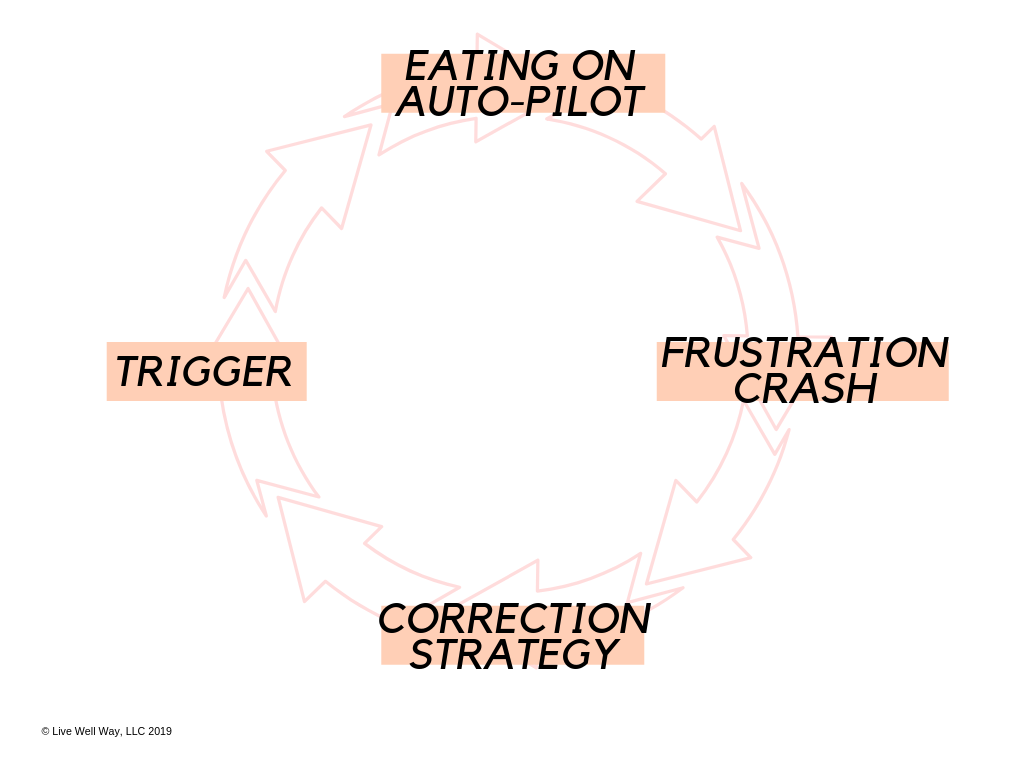 TRIGGER
An event or situation triggers the desire to eat. It may be that your boss didn't copy you on an email, you weigh yourself, your partner hasn't called back for days, or the kids aren't doing well at school. No matter what the scenario, it causes you to feel bad about something.
MINDLESS, AUTO-PILOT EATING
Without thinking, you go to food for comfort. You eat in unwanted ways, mindlessly, on auto-pilot. Eating food in this way feels good at first and compensates for the emotional discomfort.
FRUSTRATION CRASH
Auto-pilot eating is followed by a 'frustration crash' and resentment towards your "lack of willpower." You dislike your body even more and don't even want to look in the mirror. You feel weak and guilty. You don't like eating in this way and wish you could control it. You care about your health and well-being and this way of eating feels completely out of alignment with your desires and goals.
CORRECTION STRATEGY
Naturally you want to "fix" what you did! This includes starting a new diet, cleanse or detox, eliminating carbs or fats, or working out harder and longer. You impose new 'rules' on yourself that you 'must' follow. Sometimes you will impose multiple rules at once (e.g. I will go to the gym everyday and stop eating all carbs). The burden of self-compliance is enormous.
REPEAT
Your correction strategy fails. Another trigger is inevitable. You've lost more money and time; but most importantly, in the process you have come to believe that all the external solutions - all the diets and exercise regimes - are right, and you are too weak to follow the wise advice from people who know better. You feel worse, eat in unwanted ways, and move on to the next correction strategy.
HOW TO UNLOCK YOUR INNER POWER?
The Food Sanity Program is different. It starts by asking why.
One of the most essential truths to recognize is that change can only come from within. It comes from taking charge of your life in your own terms.
The conventional wisdom that all women need to do is follow the "calories in, calories out" formula to look and feel good is wrong because it's offering a solution without understanding the root of the problem.
It gives all women the same solution – eat less and workout more – even though every woman's struggle with food is different. As the saying goes, "When all you have is a hammer, everything looks like a nail."
The Food Sanity Program starts with the most important question: Why do you behave the way you do around food? Why do you eat in ways that are so opposed to your values and goals?
It helps to first understand your personal ingrained beliefs about body, perfection, health and beauty, self-worth and how these interact with your emotions.
Once you understand and master your why, the Program teaches practical skills for how to take charge of your well-being and eating choices.
The Food Sanity Program teaches you how to shape your life on your terms.
FOOD SANITY CONSISTS OF 8 WEEKS OF GROUP COACHING THAT WILL GIVE YOU FREEDOM AROUND FOOD.
The Food Sanity program recognizes the power of support from other women who are going through the same transformation.
While each woman's food story is different, they all share the same end goal – to feel confident in their body and healthy in how they eat.
The Program is based on a proven group approach that empowers each woman's path to health through the lessons and insights of sharing with others.
After this 8-week process, you will learn to:
Recognize your triggers and master the connections between emotions and hunger.
Experience pleasure when eating, instead of overwhelming guilt.

Be compassionate with yourself and your body.

Understand why the [email protected]#% food consumes your every thought.
Be in charge of your food choices (not the other way around).

Eating and caring for yourself and your body in ways that are aligned with your values.

Stay centered around food amidst the stress of life.

Strengthen your muscle of self-awareness and, as a result, make wiser decisions around food and your life.
THE PROGRAM
The program has eight modules. Each week, you will get access to one module. Each module comes with audios and support materials, which you'll find on your personal online portal. You must complete the audios and written practices before each of the weekly group sessions to get the most out of the program.
These group sessions are 75-minute moderated discussions. They are designed to help you reflect in a group setting on each phase of the growth process and leverage the power of the community to accelerate your learning curve (This is the most important aspect of the program).

Three of these group sessions will be in-person at The Yard: Eastern Market. The other five will be virtual video-conferences.
Meditation is a key component of Food Sanity. The Program draws from recent scientific research on the effectiveness of meditation practices to train our minds in self-awareness. The Program includes meditations tailored for women who fight food.
During the program, you will receive two personal 45-minute sessions with Lina. This provides you the opportunity to meet your specific needs and receive hands-on guidance from Lina.
The Program gives you access to a private WhatsApp group where the participants check in between sessions. This tool has proven to be effective in supporting women's accountability during the Program.
While issues around food don't start nor end with food, the Program provides you with a list of foods and recipes that will make the journey towards Food Sanity easier. Food is a tool, not the protagonist.
Modules
Week 1. The cost of doing nothing (in-person)

Week 2. Identifying your triggers (virtual)
Week 3. How do you respond to chaos? (virtual)
Week 4. Challenging the beliefs that keep you stuck (virtual)
Week 5. Rewriting your food story (in-person)
Week 6. Tools to re-learn how to eat (virtual)
Week 7. Using food to tame your urge to eat (virtual)
Week 8. Staying centered amidst the chaos (in-person)
You also get
Two 1:1 coaching sessions with Lina

Access to a virtual and in-person community of like-minded women

Access to private WhatsApp group moderated by Lina

Three locally-held in-person events at The Yard: Eastern Market


Take-home practices, supporting materials and audios

Guided meditations to break unwanted eating patterns

One complimentary class at Recharj, a meditation and nap center in Washington D.C.

A personal portal to track your progress

List of foods and recipes
WHAT PARTICIPANTS ARE SAYING
"I tortured myself on a mental hamster wheel of dieting. I had no idea this different option of wellness and authenticity existed"

"I now eat without thinking 'I could have done better than that'"

"I had never questioned what I wanted for me, my relationship with food and my body"

"The Food Sanity program is one of the first times I've realized that I'm not alone in feeling crazy around food and my body/weight"

"I'm able to slow down in my life, eating better to nourish myself and not seeing food as the enemy"

"My life has been impacted in my ability to pause, evaluate without judgment, and think about the root of the issue rather than just the crazy symptoms"

"I never thought that at the end of this process my fridge and pantry would be full of a greater variety of foods"
Read more testimonials here.
Frequently Asked Questions
When is the program offered?
The course starts on October 22, 2019 and lasts eight weeks. All sessions take place on Tuesdays at 6:00 p.m. EST and last 75 minutes. The early bird pricing ends on 10/1.
What is the format of the program?
The Food Sanity program consists of eight group sessions. Five sessions will be Zoom video conferences and three will be in-person gatherings in Washington D.C. with all the women registered for the course. The video conferences will enable you to connect from home or the office. The in-person gatherings in Washington D.C. are a great opportunity to connect with women struggling with the same issues and find support in the community.
What's your refund policy?
Once you register, you gain immediate access to all of the content, so refunds or free trials aren't available. This course only works if you're ready for change. This isn't a commitment; it's an investment in yourself. If you're ready to invest in your mental, physical, and emotional health once and for all, you're in the right place.
What if I cannot attend one session?
Don't worry! All sessions (except sessions 1, 5 and 8) will be recorded and uploaded to your Teachable profile for later access. You will also be able to connect with other participants via WhatsApp.
Will I be able to connect with other women?
Yes! That's why the first, middle and last sessions will be in-person gatherings in Washington D.C., where you can connect with women who face similar issues around food. We also have a WhatsApp group that you can join to stay in touch with the community. Joining the group is optional, but highly encouraged.
What if I have an eating disorder?
This course is NOT a substitute for clinical treatment for eating disorders or any mental or physical illnesses. If you have an eating disorder, I encourage you to reach out to a licensed mental health professional or physician. You can find more information on the National Eating Disorder Association website. If you have questions or want to discuss whether this program is right for you, reach out to Lina at

[email protected]
Will I get personalized support?
This course includes two individual coaching sessions with Lina. This will be an opportunity to check-in with your progress and address specific questions that you may not want to ask in group sessions. The goal of this course is to provide guidance on the key foundations of healing your relationship with food. It is not a substitute for private coaching. After the course if you feel you need additional support, you can always discuss this option with Lina at

[email protected]




What if I don't live in Washington D.C. or the United States?
All sessions (except 1, 5 and 8) will be group video conferences (we will use Zoom), so you can be anywhere in the world. Remember all sessions will take place at 6:00pm EST. Check the time difference with your location here. The sessions will be recorded for later access. Sessions 1, 5 and 8 will be in-person gatherings.
Is this course available in Español?
Where can I learn more about Lina?
You should know more about Lina, her background and how fighting food and her body brought her to where she is today. Visit www.livewellway.com and read the About Lina section. You can also follow her on Instagram,
@live.well.way