Food is meant to be consumed—not to consume you.

Your obsession with food is not inevitable. To those women who feel emotionally drained from their endless fight against what they eat, know that it won't feel this way forever. Food Sanity will teach you how to put an end to the tiring cycle of losing control around food, guilt, and regret. You will learn how to be present in life, without your mind wandering back to the contents of your fridge.
If your desire for happiness and normalcy is stronger than your desire to control what you eat and your weight, you are in the right place.
Food Sanity is the resource I wish I had when I struggled with food.
I designed this 8-week group program for every woman who could never imagine standing in close proximity to dessert (see modules below). In Food Sanity you'll learn to:
Experience pleasure when eating, instead of overwhelming guilt.

Understand why the h#&! food consumes your every thought.


Be in charge of your food choices (not the other way around).

Differentiate between mental and physical hunger cues.


Learn tools to keep you sane around food amidst daily chaos.

Become an expert in your body and mind to experience true happiness and joy.

Leverage the power of a community of women who feel and think like you.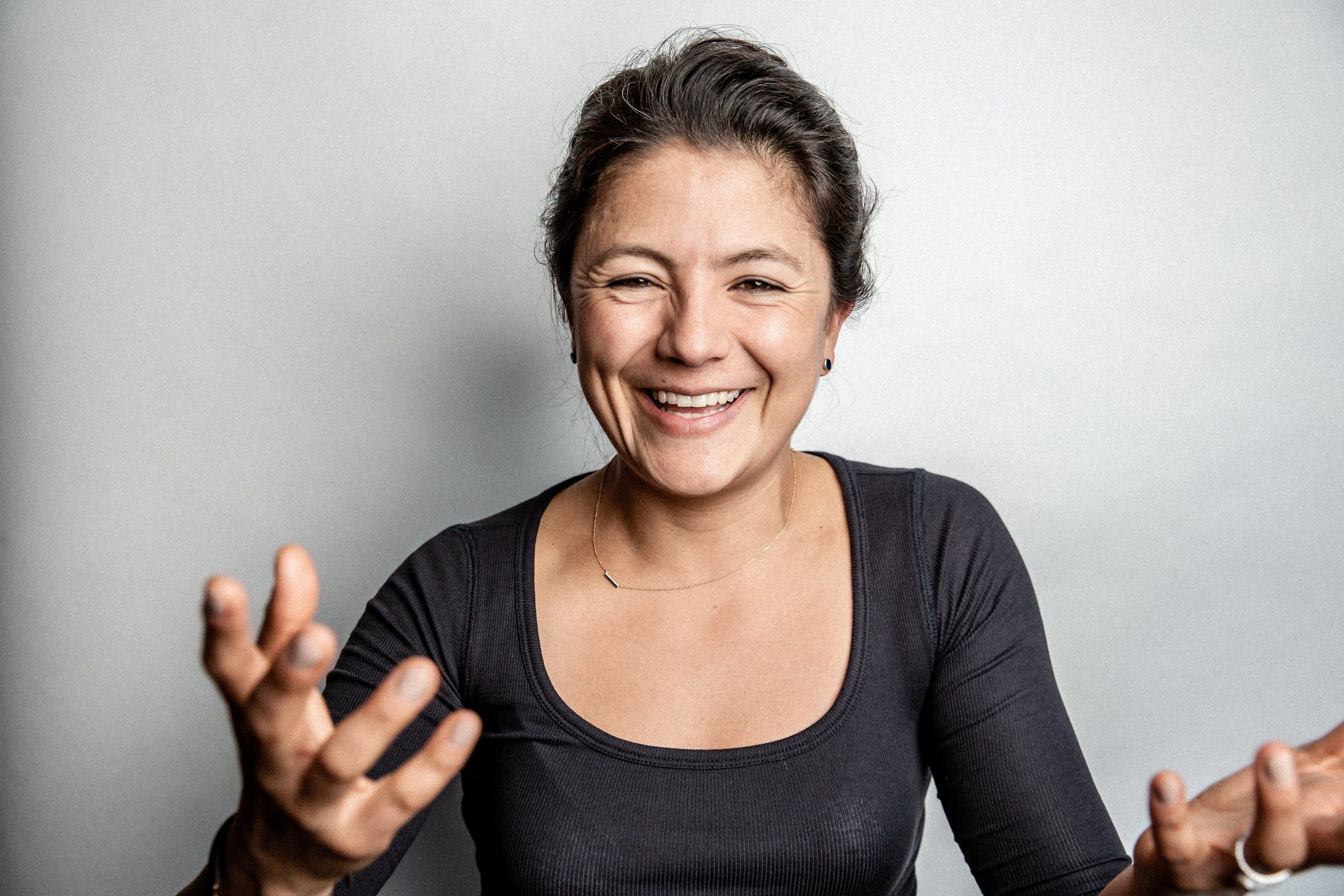 I was right where you are.

For 15 years, I was caught in an endless cycle of binges, purges, and tears. Thoughts of food consumed my everyday life, manifesting in family resentment, tumultuous relationships, and a growing dread that I would be this way forever. That was my identity.
I hit rock-bottom and realized my fixation with food and weight was a mental blockade standing between me and the rest of my life.
The moment I surrendered and understood that I had a choice, I started to break free of the tight grip my obsession held on me the. I discovered that overeating wasn't the only path.
It's time to scan the grocery aisle for nourishment—not the source of your next binge.
It's time to get your life back. You're tired of:
Crafting

excuses to

stay home

alone, preferring isolation over the temptation of the breadbasket at the restaurant.
Keeping the

refrigerator door wide open

as you gorge on a pint of vanilla soft serve, eating the whole container while standing.

Crying

in front of the mirror.
Inhaling twelve

granola bars

and an apple just to curb the brownie cravings, and then making sure the wrappers don't peak out of the trash can.

Making up rules

that you can't buy jars of peanut butter, because you KNOW you'll eat the whole thing in a single sitting.
"I was tired of wasting time thinking of food and logging an Excel spreadsheet of calories. Thanks to Lina, my relationship with food is less stressful and overwhelming"
Amanda, 34
You have the tools you need to feel sane around food. You just need to learn how to use them.
Women like you join Food Sanity to free themselves from the obsessive thoughts about food and to (finally!) feel comfortable in their bodies.
Through eight virtual group sessions and an in-person community of like-minded women, you will learn to set down the spoonful of peanut butter, shut the refrigerator door, and trust yourself to buy a box of cookies.
After this program, you will be able to dedicate mental energy to what truly matters: relationships, career goals, or that trip to the beach.
"I'm grateful Lina came into my life when she did. I shudder to think how I would have reacted to getting laid off a year ago, before I meditated and had a better handle of my food choices"
Kathy, 52
The harder you fight something, the more power you give to it.
Your struggle with food has nothing to do with a lack of willpower.
The rules you abide by—and the guilt you feel when they're broken—are the problem, not the solution.
"There is before and after I started working with Lina. She was a powerful resource for understanding my issues with food, and my life as a whole is much more calmer. She's honest, authentic, vibrant, and inspiring. It's funny to think how much I tortured myself on a mental hamster wheel of dieting. I had no idea this different option of wellness and authenticity existed"
Your entire life is waiting to be lived.
Your obsession with food and weight is the barrier between you and the rest of your life.

You have dates to go on, professional challenges to take on, beach trips to join, and birthday cake to eat.
You're familiar with the status quo. You've been there for years. It's time to give up and try a real, permanent answer to your fight with food and your body. It's time to transform your life.
The Food Sanity program includes:
Eight virtual group sessions (read titles below) that teach the fundamentals of food sanity

Access to a virtual and in-person community of like-minded women

Three 1:1 coaching sessions with Lina


Access to private WhatsApp group moderated by Lina

Three locally-held in-person events at The Yard: Eastern Market

Weekly recaps and take-home exercises


Individualized suggestions on how to increase nourishment

Guided meditations

A personal portal to track your progress


Unlimited email support
---
The Food Sanity curriculum has eight modules:
ONE. The cost of doing nothing
TWO. Getting to the root of why women fight food
THREE. Seeing your beliefs face to face
FOUR. Emotional exploration I: A journey inside your mind
FIVE. Emotional exploration II: Become an expert in yourself
SIX. Taming your cravings (no need for willpower!)
SEVEN. Owning food choices
EIGHT. Staying centered amidst the chaos
Frequently Asked Questions
When is the program offered?
The course starts on October 22, 2019 and lasts eight weeks. All sessions take place on Tuesdays at 6:00 p.m. EST and last 75 minutes.
What is the format of the program?
The Food Sanity program consists of eight semi-virtual group sessions. Five sessions will be Zoom video conferences and three will be in-person gatherings in Washington D.C. with all the women registered for the course. The video conferences will enable you to connect from home or the office. The in-person gatherings in Washington D.C. are a great opportunity to connect with women struggling with the same issues and find support in the community.
What's your refund policy?
Once you register, you gain immediate access to all of the content, so refunds or free trials aren't available. This course only works if you're ready for change. This isn't a commitment; it's an investment in yourself. If you're ready to invest in your mental, physical, and emotional health once and for all, you're in the right place.
What if I cannot attend one session?
Don't worry! All sessions (except sessions 1, 5 and 8) will be recorded and uploaded to your Teachable profile for later access. You will also be able to connect with other participants via WhatsApp.
Will I be able to connect with other women?
Yes! That's why the first, middle and last sessions will be in-person gatherings in Washington D.C., where you can connect with women who face similar issues around food. We also have a WhatsApp group that you can join to stay in touch with the community. Joining the group is optional, but highly encouraged.
What if I have an eating disorder?
This course is NOT a substitute for clinical treatment for eating disorders or any mental or physical illnesses. If you have an eating disorder, I encourage you to reach out to a licensed mental health professional or physician. You can find more information on the National Eating Disorder Association website. If you have questions or want to discuss whether this program is right for you, reach out to Lina at info@livewellway.com
Will I get personalized support?
This course includes three individual coaching sessions with Lina. This will be an opportunity to check-in with your progress and address specific questions that you may not want to ask in group sessions. The goal of this course is to provide guidance on the key foundations of healing your relationship with food. It is not a substitute for private coaching. After the course if you feel you need additional support, you can always discuss this option with Lina at info@livewellway.com


What if I don't live in Washington D.C. or the United States?
All sessions (except 1, 5 and 8) will be group video conferences (we will use Zoom), so you can be anywhere in the world. Remember all sessions will take place at 6:00pm EST. Check the time difference with your location here. The sessions will be recorded for later access. Sessions 1, 5 and 8 will be in-person gatherings.
Is this course available in Español?
Si señora! Haz clic acá para ver la versión en español.
Where can I learn more about Lina?
You should know more about Lina, her background and how fighting food and her body brought her to where she is today. Visit www.livewellway.com and read the About Lina section. You can also follow her on Instagram, @live.well.way